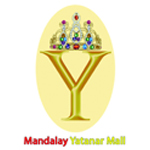 RELAX BUSINESS GROUP CO.,LTD
Jewellery Shops
Address

2nd Flr, 34 St., Corner of 78 St., Yadanar Pon Super Centre,(ဒုတိယထပ္၊ ၃၄လမ္း၊ ၇၈လမ္း ေထာင့္၊ ရတနာပံုစူပါစင္တာ၊)

Township

Chan Aye Thar Zan(ခ်မ္းေအးသာစံၿမိဳ႕နယ္)

Phone

Email

Website
Opening Hours
Mon

9:00 AM

-

7:00 PM

Tue

9:00 AM

-

7:00 PM

Wed

9:00 AM

-

7:00 PM

Thu

9:00 AM

-

7:00 PM

Fri

9:00 AM

-

7:00 PM

Sat

9:00 AM

-

7:00 PM

Sun

9:00 AM

-

7:00 PM
ပိတ္ရက္မ႐ွိပါ။
Company Profile
Business Profile
Mandalay Yatanar Mall (Relax Business Group Co.,Ltd)
Address: Corner of 78th & 34th Street.,
Township: Kit Sa Na MaHi
Phone: +959258087771-3
Website: www.mandalayyatanarmall.com
Email: mandalayyatanarmall@gmail.com
Company Profile
Mandalay Yatanar Mall is one-stop jewelry mall Situated in downtown area of Mandalay City. Selling various kind of jewelry by many gold and jewelry shops, you can buy your dream ones here in ease. Under Management of RELAX BUSINESS GROUP CO., LTD, the Mandalay Yatanar Mall Will be standing as a proudly place for Myanmar forever.
Business Categories
Jewellery Hire [Jewelleries ]
Gems and Jewelleries [Jewelleries ]